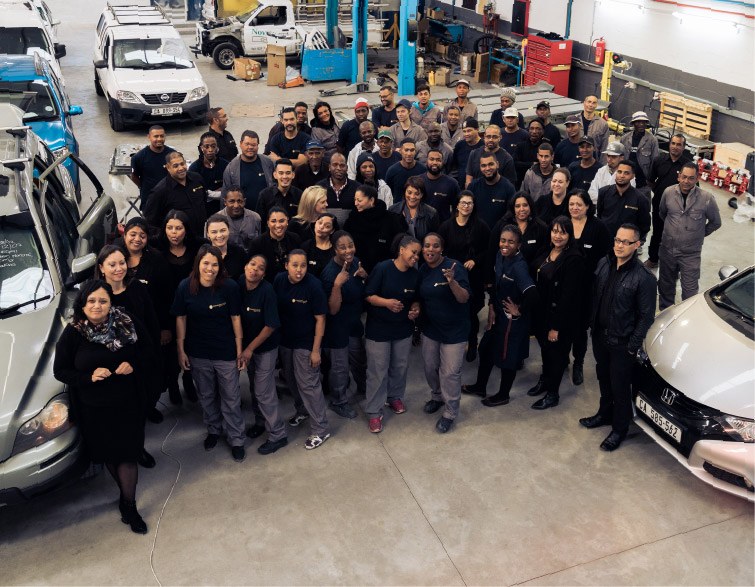 CK Coachworks was founded by the Knoop family in 2001 and has since grown to become one of the leaders in the Automotive Body Repair Industry, with four major branches in and around Cape Town.
With almost 200 employees, the CK Group prides itself on creating a strong sense of family within its' workforce. CK Coachworks is SETA approved in skills and development and provides unrivaled in-house training, ensuring their employees are educated and upskilled.
Delivering a strong focus on customer satisfaction, quality workmanship and fast turnaround time, CK Coachworks has attained MSR status, the highest achievable from SAMBRA (South African Motor Body Repairers Association). They have also been the recipient of two prestigious awards from Discovery and Aluminum.
CK Coachworks are the approved repairers for numerous leading vehicle brands, including Audi Approved Motor Body Repairer, Ford, Honda, Hyundai, Isuzu, Kia, Volkswagen Approved Motor Body Repairer, Toyota, Renault, Mazda, Chevrolet, Mitsubishi, Nissan, Opel, Subaru, Suzuki, Fiat, Alfa Romeo, Chrysler and Jeep.
CK Coachworks has been certified as a Level 2 contributor, with a with a B-BBEE Procurement Recognition level of 125% and 51% black female ownership.
Their business philosophy of "grow together, work together and accomplish together" has seen CK Coachworks become a firm favourite.
In an effort to reduce its carbon footprint, they have shifted towards using waterborne paint which is water based and friendlier to the environment.
Companies within the CK Group